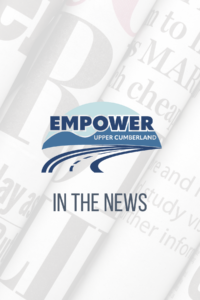 The following article is shared courtesy of the Herald-Citizen and originally appeared here.
UPPER CUMBERLAND – The Highlands Economic Partnership will launch the new Highlands Training Center this winter.
Early in the year, the Highlands Economic Partnership, a four-county economic development partnership under the Cookeville-Putnam County Chamber of Commerce, along with key community and regional partners, received planning grant funds from the Tennessee Assistance for Needy Families Opportunity Act. In April of 2022, $25 million was awarded to EMPOWERUC, with $1.5 million being allocated to the new Highlands Training Center.
The training center will focus on workforce reentry, providing training on resume and cover letter writing, salary negotiation, emotional intelligence along with professional development. This training center focuses on our community members hovering at or below the poverty line, in efforts to decrease those on government assistance and increase the average median income of families in the Upper Cumberland. The Highlands Training Center will be one of only six non-profit, accredited training centers across the state.
After completing the eight-week Highlands Training Center coursework, staff will work with the participants to match their personal and professional goals with local industry to find the best possible fit for both the client and our local HEP investors in need of workforce.
The Highlands Economic Partnership is a collaborative, public/private sector program designed to boost economic and community development in Jackson, Overton, Putnam and White counties.
"Our local industries tell us they need workforce more than anything right now," Chamber and HEP President & CEO Amy New said. "We've listened and devoted our share of the grant to meeting this need by training their future employees to be successful in the workplace. This is a population of the workforce that is currently not included in employment numbers. This will be a boost felt amongst our industry partners and community."
HEP Workforce Development Director Ryan Barnhart said, "This funding may be the turning point for success in the Upper Cumberland. After working through the planning grant with so many dedicated local partners, I know our collective efforts will make real strides towards boosting economic prosperity throughout our region."