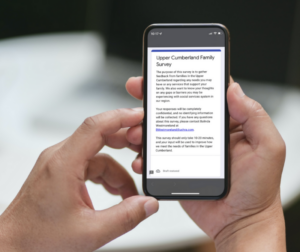 The Empower UC Collaboration that is writing the $25 million grant through the TANF (Temporary Assistance for Needy Families) Opportunity Act is seeking input from families in the Upper Cumberland.
The purpose of this survey is to gather feedback from families in the Upper Cumberland regarding any needs they may have as well as better ways that services can support families. The collaboration also seeks to gather families' opinions on gaps or barriers they may be experiencing with the social services system in our region.
Responses will be completely confidential, and no identifying information will be collected. Questions about this survey may be directed to Balinda Westmoreland at BWestmoreland@uchra.com.
This survey should only take 10-20 minutes, and input will be used to improve how the Empower UC Collaboration meets the needs of families in the Upper Cumberland.
Click here to complete the survey or scan the QR code below using a smartphone camera to be taken to the survey form.